A Letter to our Customers on Health Star Rating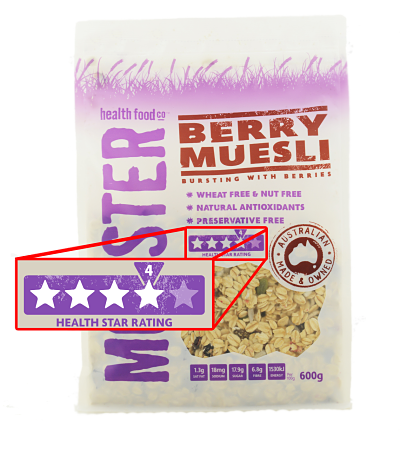 Dear Valued Customers,
Over the coming weeks you will notice your favourite Monster muesli varieties will have a new addition to their packaging – a Health Star Rating   . We are extremely proud to announce that we are the first company to have the Health Star Rating on our packaging.
The Health Star Rating was developed by industry,consumer, and public health groups with support from the Australian Department of Health for you – the consumer. The Health Star Rating gives an overall indication of a food's nutritional quality and provides an overview of the key nutrients within the product – such as salt, fats, sugars and protein and fibre. A product can score anywhere from a half to 5 stars, with 5 stars being healthiest.
For the past 21 years we have prided ourselves on being honest and transparent about our ingredients and manufacturing processes. We believe you deserve to know what is in your food and which products are healthier options. The Health Star Rating system will allow you to nutritionally compare products like-for-like, at-a-glance to help make your decision easier.
The best part about Health Star Rating?       We have not had to make any changes to our recipes to achieve high ratings       – which means you can continue to enjoy the same delicious taste of your favourite Monster muesli       flavour.
Based on current formulas,all our products score from 3.5 to 5 stars. They have been self-assessed as follows:
·        Multigrain Porridge:                        5stars
·        High Fibre:                                          5stars
·        Sports:                                                  5stars
·        Berry:                                                    4 stars
·        Tropical:                                              4stars
·        Free & Lo:                                           4stars
·        Free & Fruity:                                    4stars
While there is a two year voluntary period for companies to include it on their packaging, our Berry and Free & Lo Muesli already carry the Health Star Rating with pride. The remaining products will feature the new labelling over the next 12 months.
Thank you for your continued support,
Kim & Trevor Lauman